Y O U ' R  E    I N V I T E D   T O
The Weekend Workshop 
Thursday November 9 - Saturday November 11
Creating a Soulful Home:  A weekend event with Myquillyn at her home in Morganton, NC
Inspiration. Antiquing. Beautiful Imperfection.
Calling all Imperfectionists, Cozy Minimalists and Beauty Hunters
Join me for three days of pure inspiration. 
Be reminded of the beautiful role that soulful, historical and already-loved pieces play in your home.
Let's spend unhurried time together in my home. 
Travel with me to my two favorite places to shop for storied, meaningful beauty. 
We'll gather at all kinds of tables for yummy meals, fancy drinks and great conversation about our favorite topic: HOME.
Let My Home Be Your Classroom 
Have you ever walked out of an inspiring home and thought wow, look what they can do? 
After this weekend, you'll leave inspiring places and think wow, I know what I could do!
Learn how to be inspired like it's your job (it is!) and apply that to your current home in a way that honors your unique style.
Tour and learn from my 118 year old Queen Anne Victorian home. 
See projects and rooms in real life, warning: don't expect perfection. I'll answer your questions as you experience a Cozy yet Minimal, Imperfect, Host-able, In-Process home.
You'll leave with excitement and a fresh love for your own home, along with simple, room-changing ideas to implement immediately.
Dinner on the Grounds
You'll enjoy a beautiful cocktail hour and scrumptious homemade dinner thoughtfully planned and prepared by our favorite local chef, Lara Hicks.
Enjoy drinks and dinner under the twinkle lights in our backyard as the church bells toll. The spire anchors the backdrop to one side and the mountain view should be peaking through the trees on the other. If the weather isn't ideal we'll gather inside around the tables for cozy conversation that even an introvert will enjoy. 
You'll be hosted with simplicity and grace and you'll leave with simple, doable hosting ideas and creative ways to serve others in your own home.
Let's Go Shopping!
North Carolina is home to two of the largest antique malls in the south. Friday will be a day of shopping at both!
Not only are these malls the largest, but they are two of the best curated around. We'll travel together to The Depot at Gibson Mill in Concord North Carolina for the first half of the day.
Then we'll make the short 35 minute drive to Main Street Antiques in Mooresville for a few more hours of some of the best second hand and antique shopping you'll ever experience. 
Whether you've got a budget and hope to make some purchases or simply want to window shop for inspiration, these are the places.
Depending on the size of the group we'll either charter a bus or a van so we can travel together and have space for your finds.
Beauty Hunting: The Depot at Gibson Mill
Does it seem like others have better luck shopping second hand? Maybe you're convinced that their stores are better than yours.
The truth is, most stores are full of weird stuff with a few treasures here and there. Sharpen your beauty hunting skills as you discover fresh ways to look at old stuff.
At 88,000+ square feet, The Depot is one of the largest antique malls in the south featuring over 750 vendors and booths.
You'll beauty hunt for meaningful, functional pieces and ideas for your home. Myquillyn with be available to answer questions and help you make decisions if needed. 
We'll shop for a few hours then walk to the adjacent Gibson Mill Market Food Hall for lunch at your choice of one of six restaurants, all featuring food locally sourced in North Carolina.
Main Street Antiques
After lunch we'll make the 35 minute drive to Main Street Antiques at Merino Mill in Moorseville, NC.
Don't let the name fool you. Although both Gibson Mill and Main Street carry antique items, that's only a small percentage of the selection. You'll find tiny to huge items for your home, from all eras, in all price ranges. 
We'll spend a few hours shopping the aisles of Main Street and the booths of 500 vendors. Once you make any purchases, we'll head next door where you can choose to eat dinner at Alino Pizzeria or Barcelona Burger and Beer Garden (voted best burgers in NC). 
Be Inspired
One of the most inspiring things you can do for your creative life is put yourself in fresh situations and new, interesting environments.
The weekend will be full of unique details, out-of-the-box thinking and surprising design elements.  
There's room for every personality type, with no forced sharing (beyond introducing yourself.) As an introvert, I understand the courage it takes to show up as yourself in a new environment and promise to honor your personal space, and need for quiet reflection or group interaction. 
You are welcome to invite a friend to purchase a ticket to join you. Most of us won't have met before so it will be a weekend of new connections with a maximum of 14 guests.
You'll leave with loads of applicable ideas to instantly incorporate into your home as well as new friendships with fellow home enthusiasts.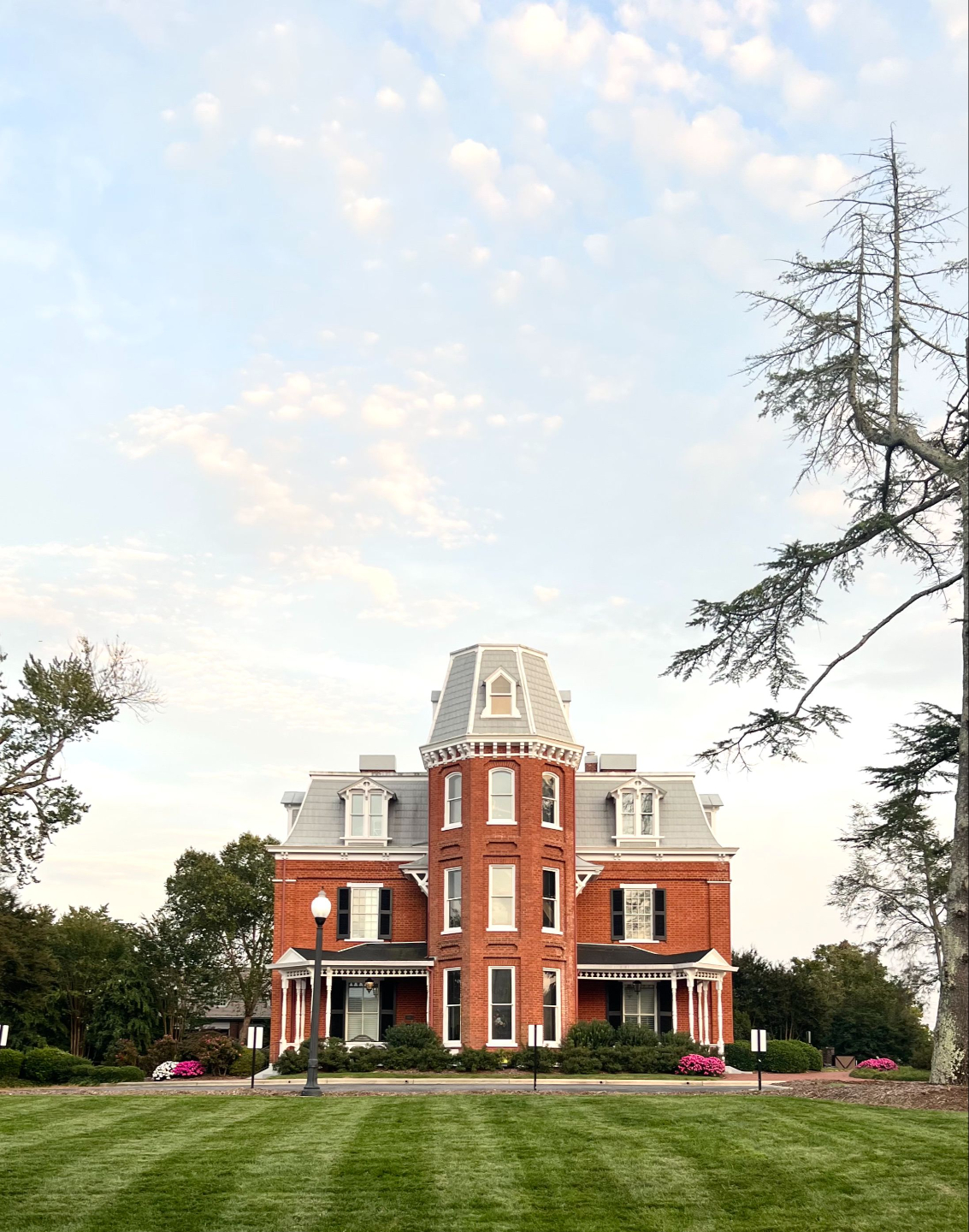 Historic Morganton
Morganton, North Carolina is known as Nature's Playground because of its idyllic location nestled between the South Mountains and the foothills of the Appalachian Mountains with the Catawba River flowing through town.
You'll catch glimpses of Table Rock Mountain as you drive or walk around.
Visit The Grind for a coffee, peruse Thornwell Books, shop Thistle & Twig for amazing plants, and stop by The General Store. If you have a chance, check out Divinity Donuts first thing Saturday morning. Most shops are within a one mile easy walking distance to my home.
Our home is one of 59 contributing buildings included in the West Union Street Historic District. Pictured is the Tate House built in 1850. 
You'll Love This Weekend if You:
long to create a home that reflects your personal style
feel a little stuck or unmotivated in your home
feel overwhelmed by all the decisions that come with creating a beautiful, meaningful, perennial home
want fresh inspiration, new surroundings and a jump start to creativity
desire to use your home as a haven for others but don't feel ready
love all things home and want to be around like-minded women
want to be encouraged, heard, fed, and immersed in beauty and ideas
need a weekend away thinking, learning and focusing on something important: Home
feel your home is missing a sense of history, soul and meaningful beauty
need a reminder that beauty can be found in the midst of imperfection
want to shop for amazing one of a kind decor
Spaces are ultra limited at just 14 people.  
Save your seat now!
Thursday
2:00 Front doors open, refreshments & welcome, teaching on adding soulful items to your home, tour the house
4:00 Break until dinner (A list of all of my favorite shops will be provided.)
6:30 Cocktails and dinner in the backyard
Friday
8:00 Meet across from the house at the bus/van
8:15 Leave for The Depot at Gibson Mill
10:00 Arrive at The Depot, shop, lunch on the premises
1:30 Leave for Main Street Antiques
2:15 Arrive at Main Street Antiques, shop
5:00 Dinner next door
6:30 Leave for Morganton 
8:00 Arrive in Morganton
Saturday
10:00 Front doors open, mimosas & light breakfast 
10:30 share purchases, observations, ideas
11:00 final thoughts, Q&A
11:30 Goodbyes
Optional, on your own:
Self-guided shopping in Asheville, a quick one hour, lovely drive through the mountains gets you to more great shopping for those who are up for more finds. We'll provide a list of all of my favorite places.
Exactly where is this event held?
Myquillyn's Imperfect, Cozy Minimalist Home has been featured in
I can't wait to meet you!